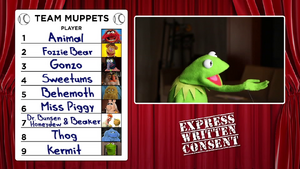 Express Written Consent is a baseball-related video series appearing on MLB.com.
Appearances
Gonzo the Great, Kermit the Frog, and Miss Piggy were guests on various episodes in August 2014; these were filmed at Citi Field (home of the New York Mets), in part to promote the home-video release of Muppets Most Wanted. Statler and Waldorf and Sweetums also made appearances during the episodes.
Additional video content showed Sweetums cheering on the Mets, and Piggy taking full advantage of the Mets' Kiss Cam.
References
In the second episode, guest Aasif Mandvi was asked to rank three hams: Virginia, Honey Glazed, and Miss Piggy.