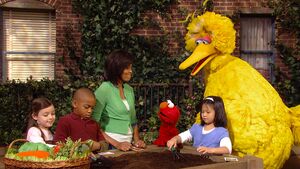 Fátima Ptacek is a child actor and model who appeared on Sesame Street Episode 4187 in a segment with Michelle Obama. She plants tomatoes. (YouTube) She also appeared on a Talk, Listen, Connect DVD.
From Queens, New York City Ptacek's first lead series role was in 2012, when she became the voice of Dora in the seventh season of Nickelodeon's Dora the Explorer. She replaced Caitlin Sanchez and Kathleen Herles. She auditioned for the role without knowing what it was, but recognized the lines from previous episodes. She is signed to a three-year contract for the role. Her voice was already used in video games and toys with the character.
Previous roles include riding with Santa in his sleigh at the 2009 Macy's Thanksgiving Day Parade, after playing Virginia in its English and Spanish advertisements that year, on Saturday Night Live (2009), Royal Pains, and Body of Proof. She appeared in 6 episodes of PBS Kids interstitial program Miss Lori.
Her mother is Ecuadorian, and her father is Norwegian, Czechoslovakian, Irish and Colombian.
External links