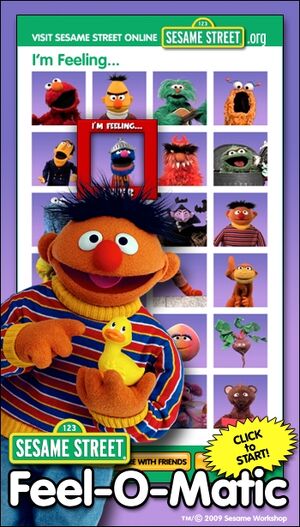 Facebook is a social networking service used by over a billion people worldwide. Companies associated with Muppet characters maintain several accounts for their franchises, often using them to distribute original content.
Official pages
Sesame Street
Official character accounts are denoted either by Facebook's "Verified" status, or their inclusion on Sesame Street's list of "Liked" pages.
The Muppets
The Jim Henson Company
Appearances
In September 2019, the Muppets began appearing in advertisements for Facebook's Portal device.
References
The "Muppetbook" character bios featured in the digital press kit for Sesame Street's 40th season parody the style and design of Facebook.
In a segment where Cookie Monster writes jokes for Jimmy Kimmel, Jimmy asks Cookie Monster to write a joke about Facebook. Cookie Monster then writes a knock knock joke.
In The Muppets episode "Pig Out", Fozzie says in LA, a yellow light means update your Facebook status.
In an interview for CNET, Kermit is asked about the usefulness of Twitter and Facebook, to which he replies, "it's so much easier to stay in touch with fans, friends, and especially family. When you have 2,342 brothers and sisters like I do, Facebook and Twitter save a lot of late night phone calls."[1]
In a 2017 video for Wired, the Muppets of Sesame Street are asked how they get celebrities. Count von Count says they get them from Facebook.
Chat Stickers
In March 2014, Walt Disney Studios released Muppets Most Wanted stickers (by Amy Mebberson) for use in Facebook chat.
Notes
In 2015, a controversial post on The Muppets Studio's official Facebook page was deleted roughly two days later, due to events that unfolded during the course of the day: On Friday, the 13th of November 2015, the studio posted "Wishing you a very dramatic Friday the 13th from Uncle Deadly. Good luck!" Hours later, a string of brutal terrorist attacks in Paris, France, left over 130 people dead. After the public left comments about the accidental inappropriateness of the post, it was removed from the page without comment.
External links
Sources