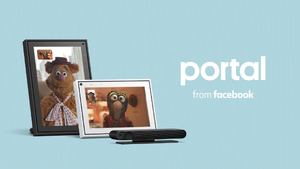 Facebook Portal is a smart display device released by Facebook in 2018.
In September 2019, the Muppets began appearing in advertisements for the product, the first of which was a 90 second launch ad. Shorter commercials followed featuring Kermit the Frog, Miss Piggy, Fozzie Bear, Gonzo, Rowlf the Dog, Dr. Bunsen Honeydew, Beaker, Camilla, Dr. Teeth, Floyd Pepper, Janice, Zoot, Animal, Lips, the Swedish Chef, Ma Bear, Foo-Foo, Statler and Waldorf, Andy and Randy Pig, Robin the Frog, Sam the Eagle, Walter, Pepe the King Prawn, and Scooter.
The ads were directed by Jonathan Dayton and Valerie Faris.[1]
Sources