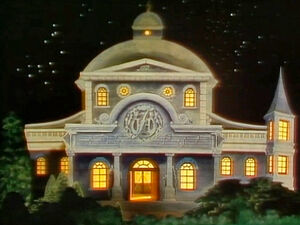 Faffner Hall is the ancestral home of the Faffners as seen on The Ghost of Faffner Hall.
Turned into a grand music conservatory by Fughetta Faffner, it later fell to the hands of Fughetta's music-hating great-nephew Farkas Faffner. The Hall's occupants must constantly defend its musical traditions from Farkas's evil schemes.
The residents of the Hall include youngsters Mimi and Riff, the eccentric Wild Impresario, and an ever-changing cast of penguins, Frackles and celebrity guests.
It is mentioned in the episode "Improvised Music" that there are 1,177 rooms in the building.