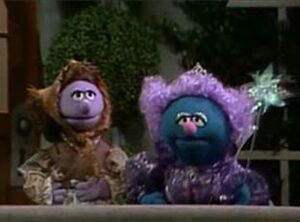 In fairy tales, a Fairy Godmother is a fairy with magical powers who acts as a mentor or parent to someone, in the role that an actual godparent was expected to play in many societies.
Sesame Street stories
Sesame Street fairy tales have included several Fairy Godmothers.
In a Season 2 story, "The Magic Apple", a Fairy Godmother grants a wish to Ernie, a poor but honest farm boy. (First: Episode 0133) She was performed by Fran Brill, and made from the Lavender Anything Muppet.
Brill performed the same puppet in another Season 2 story, which tells the Fairy Godmother's backstory. (First: Episode 0135) She explains that she wasn't always a Fairy Godmother -- "before, I was pretty yucky!" But she tripped over a magic wand in the forest, and wished that she would become a beautiful Fairy Godmother. Coming across Cookie Monster, she introduces herself as a beautiful Fairy Godmother. He disagrees, saying that she's not that beautiful. She maintains that she is, saying, "Besides, you're a horrible, ugly monster." She hands him a mirror, but he takes a look and declares that he's beautiful.
To prove him wrong, she changes him into a handsome prince -- but he hates it, and insists that she change him back. Happy to be back in his old body, he tries to grab the Fairy Godmother's wand -- and a spell fires which changes her into a furry blue monster, just the way she used to be before. She's horrified, but Cookie Monster assures her that she's beautiful. "I think I love you!" she coos, and he leads her off-screen to a "happily ever after."
Sesame Street News Flash
Cinderella's Fairy Godmother appears in a "Sesame Street News Flash" sketch, accidentally giving Kermit the Frog the beautiful dress that should have gone to Cinderella. This Godmother was performed by Camille Bonora, and made from the Fat Blue Anything Muppet.
The Fat Blue Fairy Godmother also appeared in the direct-to-video special A New Baby in My House, serving the same function for Princess Azalea and Prince Firstly.
Other portrayals