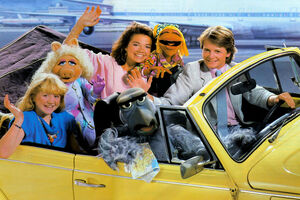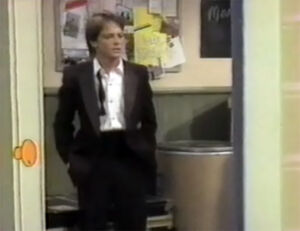 Family Ties is a television series that ran from 1982 to 1989 on NBC. The series dealt with the life of the Keaton family, as the liberal parents raise their two daughters and their very conservative son.
The Winter 1985 issue of Muppet Magazine featured an article and photo shoot with cast members Michael J. Fox, Justine Bateman, and Tina Yothers titled "Motor Madness: Or... How the Family Ties Stars, Miss Piggy, and Janice Drove Sam the Eagle Crazy." The article tells the story of what happened when the cast picked the Muppets up at a California airport and drove to a concert for the 1980s band The Police.
Muppet Mentions
In the season 1 episode ""Suzanne Takes You Down," Jennifer tries to cheer up her mom:
Jennifer: You wanna come up to my room and listen to some blues records, mom? They always help me when I'm feeling down.
Mallory: Jennifer, the only records you have are the Muppets. They don't sing the blues.
Jennifer: They do if you play them in the wrong speed.
In the season 5 episode "My Brother's Keeper," Jennifer steers Andy from the kitchen to the living room, telling him that it's time for Sesame Street.
The season 5 episode "D is for Date" includes the following exchange:
Andy: Want to watch Sesame Street with me, Jennifer? It's on.
Jennifer: I'm sorry Andy, someone's coming over to study with me.
References
In the Muppet Babies episode "This Little Piggy Went to Hollywood," the babies are watching an episode of Family Ties ("The Real Thing Part 2" from Season 4) and Baby Piggy declares Michael J. Fox as her absolute favorite. The episode ends when Baby Gonzo finds Fox in the closet. Piggy opens the door to footage from the same episode of the show the babies watched in which Fox's character is professing his love. Piggy faints.
Community content is available under
CC-BY-SA
unless otherwise noted.