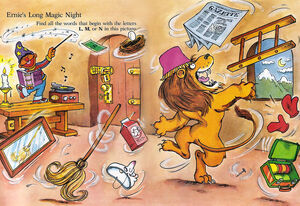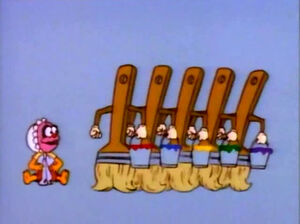 Fantasia is a 1940 animated film produced by Walt Disney. The film is made up of several vignettes which are set to pieces of classical music. The most popular of these segments is a symphonic poem, "The Sorcerer's Apprentice" by Paul Dukas. The story revolves around a young apprentice (played by Mickey Mouse) who enthusiastically takes it upon himself to meddle with magic in order to finish his chores. Borrowing the sorcerer's hat, the apprentice falls asleep and wreaks havoc as his spell spirals out of control, until the sorcerer shows up and puts everything back the way it was. A follow-up anthology, Fantasia 2000, was released in 1999.
References
Big Bird's Sesame Street Dictionary Volume 5 features Ernie in the role of the sorcerer's apprentice as he whisks about various items, including an animated broom (like those seen in the film) and a newspaper announcing the headline "Apprentice Out of Control." Ernie wears a sorcerer's hat similar to Mickey's as he dances along to music played by a record player.
Connections
External links
Community content is available under
CC-BY-SA
unless otherwise noted.