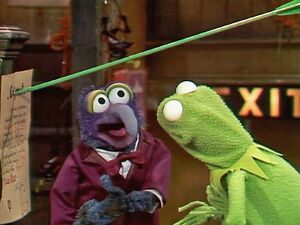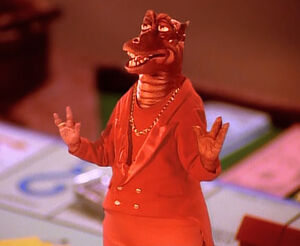 Faust is the protagonist of a German legend; a highly successful scholar but one dissatisfied with his life who therefore makes a pact with the Devil, exchanging his soul for unlimited knowledge and worldly pleasures. Faust and the adjective Faustian imply a situation in which an ambitious person surrenders moral integrity in order to achieve power and success for a delimited term. The most famous versions of the Faust story include those of playwrights Christopher Marlowe (which heavily uses psychomachia in the form of Good and Evil angels) and Johann Wolfgang Goethe, and the opera by Charles Gounod.
References
In The Muppet Show episode 307, guest star Alice Cooper, moonlighting as a servant for Satan, offers the Muppets a contract promising "fabulous riches and worldwide fame" in a Faustian exchange for their souls. Kermit sums up the tale specifically ("you know the Faust story?") but shudders at the idea, Miss Piggy gives it a test run but ultimately decides it's not worth the sacrifice (or the makeover), and Gonzo spends much of the episode looking for a pen to sign the contract. He becomes so desperate that he, in quick succession, offers to trade the Vile Bunch Drummer a chicken, all of his chickens, and finally his soul for a pen before realizing that he has "other plans for that."
Other deals with the devil
Connections
Many artists with Muppet/Henson participation have worked in adaptations of the Faust story (including versions of the aforementioned plays).