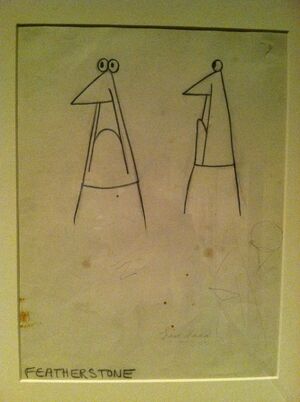 Featherstone is the right hand man to the King in two Tales from Muppetland fairytale specials. In the 1969 special Hey Cinderella!, Featherstone serves King Goshposh, and in 1971's The Frog Prince, he works for the nearly identical King Rupert the Second. Featherstone functions as advisor, prime minister, and announcer at royal occasions such as balls or coronations. In the soundtrack album for The Frog Prince, Kermit refers to him as the Duke of Featherstone.
Featherstone later appeared on The Muppet Show in episode 423. However, a redesigned, full-bodied version of the puppet was also used in earlier seasons as the Queen, in episodes 121 and 202.
The Featherstone puppet also appeared in the 1972 television special The Perry Como Winter Show, serving as a room clerk. In this special, he was performed by Frank Oz.