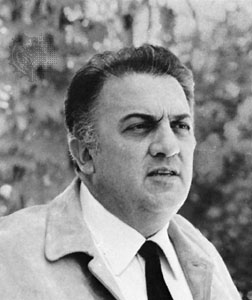 Frederico Fellini (1920-1993) was a world-renowned Italian filmmaker, whose best known movies include La Dolce Vita (1960) and 8 1/2 (1963).
In his 1995 autobiography I, Fellini, the director talks about programs on television he respected:
"

I was very impressed by the Muppets -- wonderful puppets, wonderful characters. They remind me of some of the puppets I made as a boy. They are the successors to the great screen comedians -- the Marx Brothers, Mae West, Laurel and Hardy. Miss Piggy is the heir to Mae West, and Kermit to Stan Laurel or Harry Langdon. The Muppets would be nice to work with. I am always looking for faces, and they have unforgettable faces, and they are a sympathetic troupe of players with congeniality.[1]

"
References
Sources
↑ Fellini, Federico and Charlotte Chandler. I, Fellini. Random House. 1995.
Community content is available under
CC-BY-SA
unless otherwise noted.