m

Line 3:
Line 3:
 

'''Feenie Fraggle''' is a good-natured but rather slow-witted [[Fraggles|Fraggle]] whose best friend is [[Large Marvin Fraggle]].

 

'''Feenie Fraggle''' is a good-natured but rather slow-witted [[Fraggles|Fraggle]] whose best friend is [[Large Marvin Fraggle]].

 
 
−

He featured most prominently in the ''[[Fraggle Rock]]'' episodes "[[Episode 317: Playing Till it Hurts|Playing Till it Hurts]]," "[[Episode 409: Wembley's Flight|Wembley's Flight]]," and "[[Episode 504: The Trial of Cotterpin Doozer|The Trial of Cotterpin Doozer]]." He also appeared in the background of "[[Episode 123: The Beast of Blue Rock| The Beast of Blue Rock]]" and "[[Episode 513: Change of Address| Change of Address]]."

+

He featured most prominently in the ''[[Fraggle Rock]]'' episodes "[[Episode 317: Playing Till it Hurts|Playing Till it Hurts]]," "[[Episode 409: Wembley's Flight|Wembley's Flight]]," and "[[Episode 504: The Trial of Cotterpin Doozer|The Trial of Cotterpin Doozer]]." He also appeared in the background "[[Episode 123: The Beast of Blue Rock| The Beast of Blue Rock]]" and "[[Episode 513: Change of Address| Change of Address]]."

−
 
 

[[Category:Muppet Characters]]

 

[[Category:Muppet Characters]]

 

[[Category:Fraggle Rock Characters]]

 

[[Category:Fraggle Rock Characters]]
---
Revision as of 15:53, 1 January 2010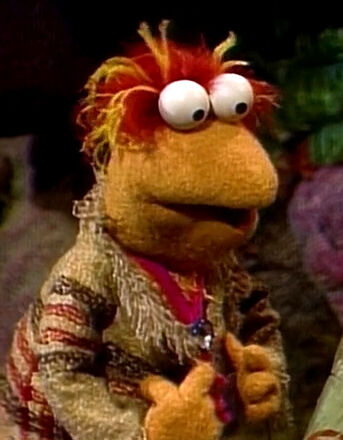 Feenie Fraggle is a good-natured but rather slow-witted Fraggle whose best friend is Large Marvin Fraggle.
He featured most prominently in the Fraggle Rock episodes "Playing Till it Hurts," "Wembley's Flight," and "The Trial of Cotterpin Doozer." He also appeared in the background in " The Beast of Blue Rock", "The Grapes of Generosity" and " Change of Address."
Community content is available under
CC-BY-SA
unless otherwise noted.