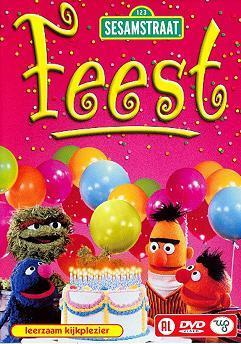 Feest (Party) is a DVD release of Sesamstraat, the Dutch co-production of Sesame Street.
This DVD was produced in honor of Sesamstraat's 25th anniversary in 2001. It contains a sixty minute compilation of insert clips from the Dutch episodes and American clips dubbed to Dutch, with "parties" as a running theme.
Cookie Monster is a notable omission in the 25th anniversary celebration.
This DVD was the 14th Sesamstraat DVD produced by Weton Wesgram (SESDVD014) in a series of Sesamstraat compilations. It was also released on VHS.
Segments
Dutch Cast: Carnival In The Kitchen
Muppets: "Happy Tappin' with Elmo" (Elmo's debut)
Cartoon: Magician adds numbers
Dutch Cast: Days of the Week (part one)
Dutch Cast: Days of the Week (part two)
Cartoon: Bird counts three balloons
Dutch Cast: Days of the Week (part three)
Muppets: "Alphabet Disco" with Grover
Dutch Cast: Tommie sings: "Morgen Ben Ik Jarig" (Tomorrow Is My Birthday)
Muppets: Old West: Bad Bart's Surprise
Cartoon: Five Dancing Men
Muppets: The Count sings: "I Love a Waltz"
Dutch Cast: Ieniemienie's Crafts Club: Serpentines
Muppets: Easy Rhythm Rhyming Alphabet (with Ferlinghetti Donizetti and Grover)
Stop Motion: Five Dancing Chairs
Dutch Cast: Good Mood Shop
Muppets: Bert and Ernie: "Feelin' Good/Feelin' Bad"
Dutch Cast Little Bad Boy - Frank reads a story
Muppets: Kingston Livingston III's Dance
Dutch Cast/Live Action: Balloon poem
Dutch Cast: Tommie celebrates a plant's birthday
Dutch Cartoon: Party (sung by Ieniemienie)
Muppets: Oscar the Grouch tells Telly Monster about his surprise birthday party
Cartoon: Forward, Backward
Dutch Cast/Location: Frank finds "birthday plants"
Muppets: Cricket Boogie
Cartoon: Up, Down
Muppets: Forgetful Jones sings to Clementine on her birthday
Dutch Cartoon: Parade (sung by Ieniemienie)
Muppets: Two-Headed Monster: Surprise
Cartoon: Oh, What A Wonderful Party
Muppets: One Banana
Cartoon: F Candles
Muppets: Lambaba
Dutch Cast: Prins Vads' Birthday - Frank reads a story