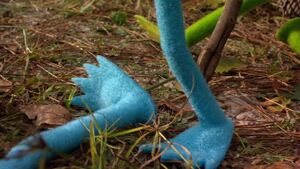 Many Muppets are created without legs and feet that are visible to the camera. With the exception of Full-Bodied Muppets like Big Bird, Mr. Snuffleupagus, Sweetums, and Barkley the Dog with visible legs and feet, the puppets are usually seen from the waist up only. However, on some occasions, the legs and feet need to be seen and there are a few ways to do so.
If the Muppet needs to be seen with their legs and feet in the same shot, the puppet could be puppeteered on a green or blue screen and added into the shot, or the puppeteer would be dressed all in black against a black background, with rods or an extra puppeteer controlling the feet. (See Chroma key)
If the Muppet doesn't have to be seen in the same shot as the legs, usually there is a separate shot with rods controlling the legs to make them move. Also, a separate Muppeteer could wear leg-coverings or pants to make them look like they are the Muppet's legs, in order to make more human-like motions. Examples of this are Oscar's walking trash can, Murray Monster in Murray Has a Little Lamb: Soccer School, and various other performances.
If the Muppet is just sitting, the performer might just be underneath or behind what the character is sitting on so as to be hidden from view.
See also
Community content is available under
CC-BY-SA
unless otherwise noted.