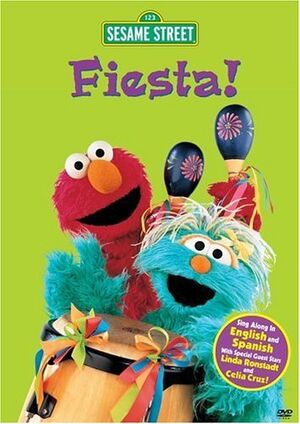 In the 1998 Sesame Street video Fiesta!, the residents of Sesame Street prepare for a fiesta. Rosita makes a beautiful float for the carnival, but Elmo accidentally breaks it.
While Maria fixes the float, Gabi prepares the costumes. Elmo and Rosita can't decide which costume to wear, but finally settle on bugs. Oscar is dragged into a guessing game and accidentally answers correctly.
The children, Elmo, and Rosita practice the conga. Elmo adds a "Wiggle-wiggle" into the dance, and after some debate, the whole group decides to wiggle too.
Finally, Maria manages to fix the float, but Elmo accidentally breaks the float again. He promises to get a new float...somewhere.
While all the kids are sad because they don't have a float anymore, Elmo brings a pineapple, saying that - just like Cinderella's carriage - a fairy godmother would turn the pineapple into a float. Gabi and the others don't believe Elmo's story. He calls for a fairy godmother, at which point Oscar arrives in the Sloppy Jalopy. He refuses to help by lending the car for the carnival, but Gabi points out that the car would be decorated "with great looking trash". Oscar finally relents and allows his car to be used as a float.
Maria dresses as a Queen Bee, and announces the beginning of the carnival.
Songs
Other releases
Cast
Starring Jim Henson's Sesame Street Muppets:

and Kevin Clash as Elmo
With Muppet Performers: Carmen Osbahr, Jerry Nelson, Martin P. Robinson, Fran Brill, David Rudman, Noel MacNeal, Pam Arciero, Peter Linz, Camille Kampouris, Alice Dinnean, Lisa Buckley, Matt Vogel, James Kroupa, Rick Lyon, John Tartaglia, and Louise Gold
Child Talent: Desiree Casado, Amy Tai, Nicole Rifkin, Nicholas Sullivan, Maxwell Sacoto, Xavier Pritchett
Credits
See also