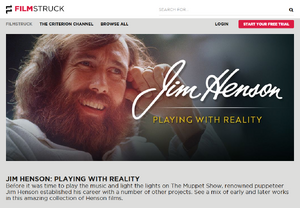 FilmStruck was a streaming service run by Turner Classic Movies from 2016 to 2018. Its library consisted of films from the Golden Age of Hollywood, foreign films, arthouse cinema, and movies produced by independent studios.
In late 2017, FilmStruck partnered with The Jim Henson Company to offer a collection of works from early projects by Jim Henson. Dubbed "Jim Henson: Playing with Reality", the selection includes a number of shorts, experimental features, and some specials still owned by the Henson company. Many of the titles have never been released on home video, but have screened at various events and museum exhibits, while others had previously been housed on Henson's YouTube channel. The Henson content was removed from the service in late May 2018; some of the titles later became available on Fandor.
Titles
Special Features
Heather Henson Presents: Handmade Puppet Dreams (1hr 54min)
"A collection of visionary animated short films curated by Heather Henson."
Works of Art Brought to Life (4min)
"Puppetry can take many different forms. Jim Henson's daughter Heather Henson, a puppeteer herself and curator of Handmade Puppet Dreams, discusses the versatility of puppetry, her father's lasting legacy in the art form and the diverse films featured in this collection of shorts."
Jim Henson: The All-Around Artist (9min)
"Everyone knows the work of Jim Henson the puppeteer, but his interests and talents went well beyond just one art form. Daughter and CEO of the Jim Henson Company, Lisa Henson, discusses her father's many passions as a filmmaker and creator, and what it was like growing up in the Henson household."
Community content is available under
CC-BY-SA
unless otherwise noted.