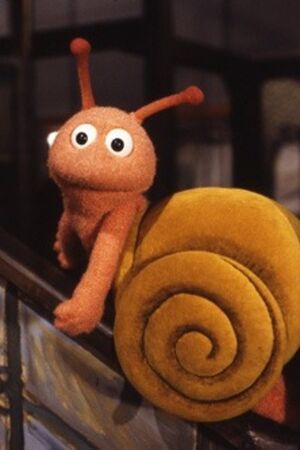 Finchen is a character on Sesamstrasse, the German co-production of Sesame Street. She is also a recurring character on Eine Möhre für Zwei.
Finchen is an orange snail with a yellow shell (with a tint of orange) on her back. She also wears glasses. Finchen loves to ride her skateboard around Sesamstrasse and has a really wild imagination. However, Finchen can be serious at times.
She represents the psychological age of a three year old and is friends with Samson, Tiffy, Uli von Bödefeld, Rumpel, Wolle, Pferd, Feli Filu and Sesamstrasse's other residents.
Since appearing on Eine Möhre für Zwei, the snail ironically runs her own postal delivery service, FPS (Finchen's Parcel Service), a riff on UPS, including a truck and uniform in a very similar design. A 2013 episode introduced her co-worker, donkey Marie.
Finchen, along with other Sesamstrasse characters appeared in the 1993 special Sesame Street Stays Up Late.
Early Appearance
Finchen was added to the Sesamstrasse cast following Samson and Tiffy in 1983 as a male character. He started as a weak, tiny snail who lived in the forest, right outside Sesamstrasse. The character didn't always wear his glasses and had a row of decorative buttons running down the front of his body. Finchen's original performer was male puppeteer Lothar Klose. Finchen's second puppeteer Wilhelm Helmrich took over performing duties from 1989 until 1991.
Gender
During the early 1990s the character was changed from a male character to be a young girl. Female puppeteer Uta Delbridge took over the role in 1992, Finchen's personality became more frightful and she began to speak with a softer voice.
Since 2000, Finchen has been performed by Andrea Bongers. The character is currently referred to with female gender pronouns.
Notes
The character's birthday is March 1st.[1]
Gallery
See also
Sources
Community content is available under
CC-BY-SA
unless otherwise noted.