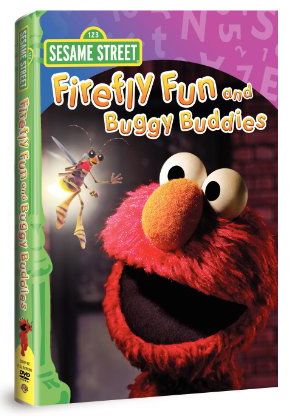 Firefly Fun and Buggy Buddies is a Sesame Street DVD from Warner Home Video released on June 1, 2010. The DVD includes the Street stories from two 2008 episodes (episodes 4165 and 4175) plus Elmo's World: Bugs, as well as other segments related to bugs.
The classic "Ladybugs' Picnic" cartoon is included as a bonus feature.
Segments
Elmo tries to kiss a butterfly. (part 1)
The Firefly Show (street scene)
Elmo continues chasing the butterfly. (part 2)
Cartoon: W words in the woods.
Elmo continues chasing the butterfly, vowing not to give up. (part 3)
Slimey Adopts a Pet Bug (street scene)
Elmo notices that the butterfly is chasing him now. (part 4)
Jenny McCarthy explains what the word "insect" means.
Elmo continues chasing the butterfly. (part 5)
Animation: The Twiddlebugs adopt a caterpillar.
Elmo looks for the butterfly, not knowing it's landed on his head. (part 6)
Right when Elmo gives up chasing the butterfly, it gives him a kiss, which makes Elmo want to give it a hug. (part 7)
Cartoon: "Bugs Song" (played during the credits)
International releases
Community content is available under
CC-BY-SA
unless otherwise noted.