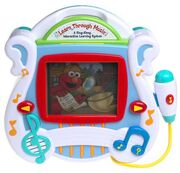 Fisher-Price created the interactive Learn Through Music toy in 2011 for children ages 2-5. It features a touch screen, function buttons, and a small microphone for the child to sing along. It works with cartridges featuring popular children's characters, including Sesame Street characters. The system is sold with two cartridges, one of which is "Elmo's ABC Scavenger Hunt". The toy received an upgrade and was renamed the Learn Through Music Plus!; among the new features is the ability for the child to record and play back their own singing. The new version is sold with a "sampler" cartridge which includes Sesame Street. Additional cartridges are available for both versions of the toy.
Community content is available under
CC-BY-SA
unless otherwise noted.