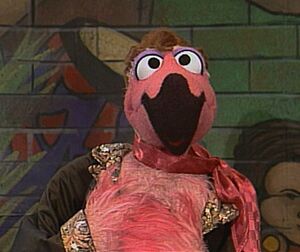 Flamingos are tall, pink wading birds that have long legs and curved beaks with filters inside, which are used for filter-feeding. They are found in tropics and subtropics of South America, Africa, and on the southern tip of Florida.
The original script for Sesame Street Episode 0831 called for a flamingo named Floyd Flamingo to visit Big Bird, but he was replaced with a toucan in the taped version.
Gonzo asks Arlo Guthrie to tune his flamingo guitar in The Muppet Show episode 408. He had it shipped in from Miami.
Backstage on The Muppet Show episode 424, the animals complain about the poor response to "I Go to Rio". One of the penguins even rented a tuxedo for the occasion (he's really a flamingo).
In episode 506 of The Muppet Show, a flamingo (played by Louise Gold) appeared during the falling sequence.
From seasons 17 to 22, another flamingo named Placido Flamingo, an opera singer, appeared as a recurring character.
The 1999 TV movie Alice in Wonderland featured flamingos built by Jim Henson's Creature Shop.
A 2002 episode of Sesame Street features Elmo dancing the Flamenco with a flamingo.
Dorothy imagines Elmo as a flamingo in Elmo's World: Sleep.
In the Animal Show episode "Pelican & Flamingo", a flamingo named Julie told Jake and Stinky how flamingos eat the proper way.
Manolo and Carlo Flamingo appear in Muppets Most Wanted.
Community content is available under
CC-BY-SA
unless otherwise noted.