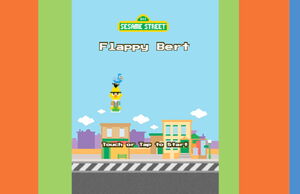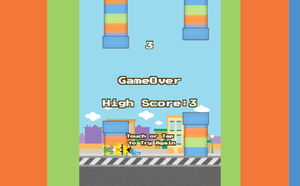 Flappy Bird is a 2013 mobile game developed by Nguyễn Hà Đông and published by .GEARS Studios.
Flappy Bird is a side-scrolling mobile game featuring 2D retro style graphics. The objective is to direct a flying bird, which moves continuously to the right, between each oncoming set of pipes without colliding with them, which otherwise ends the game. The bird briefly flaps upward each time the player taps the screen, and the player is scored on the number of pipe sets the bird successfully passes through.
The game, which was released in May 24, 2013, was removed from both Apple's App Store and Google Play by its creator on February 10, 2014 due to the gameplay's addictive nature.
References
The removal and unavailability of the game at the height of its popularity spawned many unofficial fan-made remakes and parodies of the game. Sesame Workshop released "Flappy Bert", a web-based Sesame Street version of the game on February 12, 2014, just two days after the official game was removed from sale. The game was hosted on Sesameworkshop.org, and included no educational content.
In the game, Bert is held aloft by Bernice, his pet pigeon, who has grabbed him by the hair. The gameplay is the same as the original game, but the background image shows a panorama of Sesame Street, including the 123 Sesame Street brownstone, Oscar's trash can and Hooper's Store. The pipes are striped with the colors of Bert's shirt. When the duo runs into one of the pipes, they fall to the bottom of the screen, and there's a sound clip of a frustrated Bert sighing, "Ernie!" That clip, and the flapping of Bernice's wings, are the only sound effects in the game.(play)
External links