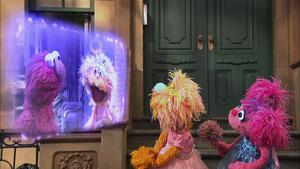 A list of flashbacks in Muppet and Henson productions.
Movies
The Muppet Movie - The film shows how the Muppets got started (or, as Kermit tells Robin, "it's sort of approximately how it happened").
Kermit's Swamp Years - Aside from the beginning and end, the whole movie takes place during a time when Kermit was 12-years-old.
The Muppets - The movie begins with a montage of Walter and Gary growing up, with Walter narrating. Additionally, Rowlf's exclusion from the montage prompts a flashback to him rejoining the Muppets. In a deleted scene, Tex Richman talks about how his tenth birthday party got ruined due to his inability to laugh at the Muppets.
Pretty much every reading of every postcard from Traveling Matt serves as a flashback.
Gobo's Discovery - Includes a flashback to the time Gobo decided he wanted to be an explorer.
Born to Wander - The whole episode is a flashback.
Inspector Red - This episode includes a number of flashbacks to events taking place when the Fraggle Horn was stolen.
"Pig Girls Don't Cry" - The break-up of Kermit and Miss Piggy is shown through archival paparazzi footage.
Specials