Written by
Lew DeWitt
Date
1965
Source
Flowers on the Wall (single)
Publisher
Columbia Records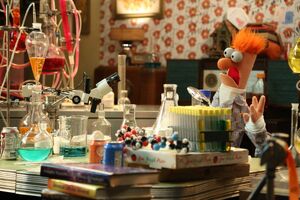 "Flowers on the Wall" is a country song by The Statler Brothers. It reached No. 4 on the Billboard Hot 100 chart and was famously used in Quentin Tarantino's 1994 film Pulp Fiction.
A group of Muppet rats called The Ratler Brothers covered the song in a music video released on Facebook, Twitter and YouTube on September 6, 2015.
The rats play the song against a "projected" video of Dr. Bunsen Honeydew and Beaker working in Muppet Labs. After testing an anti-insomnia sleep machine, Beaker punches out for the day and goes home to his apartment. There, he spends time counting flowers on his wallpaper, doing math equations, browsing Instagram, and having dinner with a dummy of Bunsen. After mixing some chemicals that explode, Beaker falls asleep atop the debris left from the blast.
The song's original lyrics in the chorus of "smokin' cigarettes and watchin' Captain Kangaroo" were updated to "liking Instagrams and playin' tons of sudoku," "catching up on doing all the things I've wanted to," and "mixin' chemical combustibles the whole night through."
Notes
This music video contributes several hints towards Bunsen and Beaker's relationship.