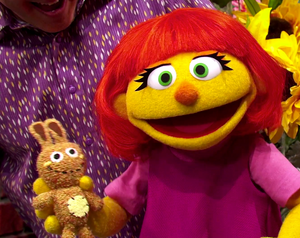 Fluffster is Julia's favorite stuffed rabbit which she brings with her everywhere. Julia is often seen holding Fluffster as a source of comfort, especially when she feels anxious or upset, and even when she's engaged in drawing or another activity. Julia sometimes pretends to make Fluffster bounce, bobbing the toy up and down and chanting "boing, boing, boing..."
In Julia's debut episode on Sesame Street, she creates a painting depicting Fluffster as a superhero.
The 2018 book Family Forever: A Julia Storybook involves Julia accidentally losing Fluffster while out on a family picnic. Julia's family, along with Elmo and Abby Cadabby, help her look for Fluffster in the park. As revealed in the story, Fluffster's favorite picnic food is frogs, according to Julia.
See also
Community content is available under
CC-BY-SA
unless otherwise noted.