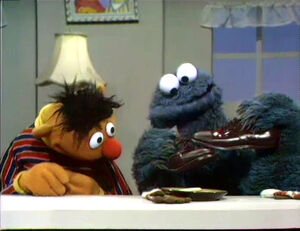 Lefty wants to sell Ernie an empty box, explaining that he can fill the box with things, such as a pet mouse (if Ernie had one) and jellybeans (if they rained from the sky). Ernie wants an empty box, but doesn't have any money. However, Bert brings a box of cookies. Ernie dumps the cookies so he can catch jellybeans from the sky.
Film: The making of french fries
Ernie tries to teach Cookie Monster to use his knife, fork, and spoon.
Ernie comes up with a way for him to remember to put his basketball away before he goes to sleep: he remembers things with his brain, which is in his head; his head is round, and so is the basketball. His plan works the first time, but not when Bert wants to go to sleep.
Cookie Monster helps Ernie match mittens, shoes and gloves and put them away.