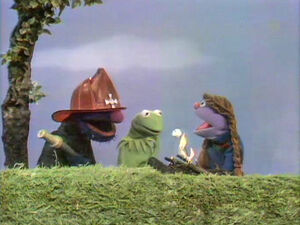 Kermit smells smoke. An Anything Muppet girl tells him that there's a fire "over there", and Kermit screams for the fireman. Grover comes along wearing a white coat and a stethoscope; then carrying a pitchfork, and talking about his cows, chickens and the barn. Kermit reminds him that a fireman puts out fires. When Grover finally arrives with a hose, they discover that the fire is coming from the girl toasting marshmallows over a small campfire.
Bumfidel is the guest of some fishermen.
Film: A tram driver talks about her profession.