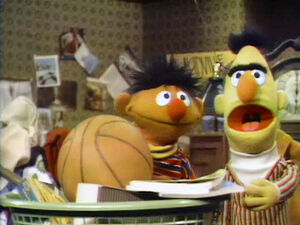 Ernie gets ready to do the laundry, gathering things to do while he's waiting for the laundry to be done. He fills up the laundry basket with toys... and doesn't have room for the laundry.
Poor Solomon Grundy washes a different part of the left side of his body every day, but at the end of the week, "he's still half dirty!".
The miller's daughter is in danger of losing her baby if she cannot guess the first name of Rumpelstiltskin. Kermit puts up a hotline, Sesame-Street-555, for people to call in and help her. The name ends up being Bruce Rumpelstiltskin, but unfortunately for Kermit, he picked the wrong place to hide: an empty baby carriage.
A cartoon about a little girl.
Grover serves Mr. Johnson a bowl of chicken soup. Johnson says that he can't eat the soup, and Grover can't guess why. "That settles it," Johnson sighs. "From now on, I'm bringing my lunch to work in a paper sack." He finally explains to Grover that he can't eat the soup because he doesn't have a spoon.
Three witches attempt their own individual spells, which don't work out to their liking. They decide to cooperate by bringing all of their ingredients together, thus making chicken soup.