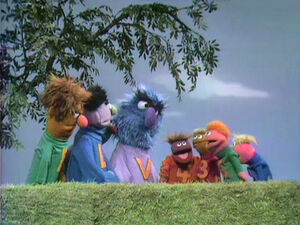 Samson buys a new pair of cowboy boots.
Cartoon: The O in STOP bounces around, and the other letters ask it to stop.
A group of Muppets split into two separate teams for a game -- however, one of the small ones points out that they've split into one team of big players and one team of small players. They eventually agree to play Tiddly-Winks.
The Count recites a poem with the viewer, who provides the rhyme for each stanza (the numbers one through ten).
A Muppet cowboy sings about danger.