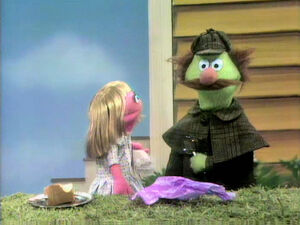 The cast and crew thank the viewer for tuning in today.
Ernie wants to borrow Herbert Birdsfoot's vacuum cleaner, but he worries about how Herbert will respond. Maybe Herbert's taking a bath, and he'll be so angry at Ernie for interrupting him that he'll tell everyone to never loan Ernie anything ever again! (EKA: Folge 0311)
Sherlock Hemlock tries to figure out why there is a mess outside. He speculates that the Twiddlebugs made a mess after a Twiddlebug dance.
Sinister Sam is looking for the biggest man in the saloon. The frightened customers point him towards Big Barney, who's cowering under the table. When Sam discovers that Barney is the biggest man there, he gives him a hat: "This ol' hat here don't fit me. I thought maybe you could use it, huh? I'll see you, fellers." Sinister Sam leaves the baffled customers behind. "Now, that's a nice gesture," one says. "He's a little weird, but he's okay after all, isn't he?"