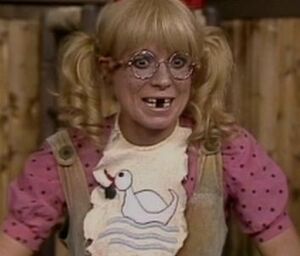 Gabby (Ingrid Steeger), of the Klimbim Family, is looking for a new home. She visits Sesamstrasse (meeting Samson, Lilo, Manfred, and others) and brings everyone gifts.
Jan and Rike try to fight off a bad mood.
A filmed song from Christoph Busse, "Der Brillensong," about the various kinds of glasses.[1]
Notes
The street story with Gabby is repeated from 1983.[2] Ingrid Steeger reprises her character from the sketch comedy series Klimbim, which ran on ARD from 1973 until 1979. The primary segment focused on the Klimbim Familie, where Gabby was the bratty daughter (living with a self-indulgent mother and military-minded grandfather, and other strange relatives and guests).
"Der Brillensong" was later included on the 1993 cassette/CD release Lustige Lieder aus der Sesamstrasse, consisting entirely of songs Busse wrote for the series.
Sources
↑ Fernsehserien.de. TV listing from HÖRZU
↑ Ingrid Steeger's official site. TV appearance listing.