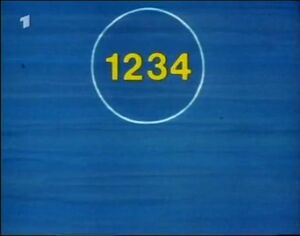 Picture
Segment
Description

Scene
Samson disguises himself as a grandfather to trick everyone to thinking it's not him.

Muppets

Caveman Days: Taking the kid to school
Ernie (the father) and Bert (the kid) go over the procedure of crossing the street.

Film
Calling in the woods.

Scene
Samson tries to trick Tiffy, but his plan fails.

Cartoon
A story of the acceptance of trolls.

Muppets
Grover demonstrates how a phone booth is used, but it becomes crowded when he receives a call asking for "Mondipoorg."

Scene
Samson tries to trick Lilo and Henning, but his plan fails again.

Muppets
A Muppet cowboy sings about danger.
(EKA: Folge 1003)

Cartoon
Dot Bridge (third dot wants to be red).

Muppets
Two Anything Muppet kids argue over a cookie. Cookie Monster arrives and says that the smallest person should get the cookie, and then, as the kids argue over which one is smaller, Cookie Monster shrinks himself.
(EKA: Folge 1045)

Scene
Retiring his disguise costume, the others he tried to trick have disguised themselves and play a dress up party game.