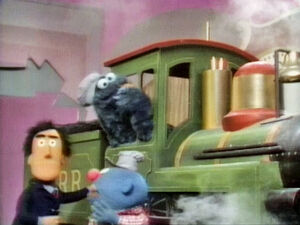 A donkey appears in the studio and Samson wants to ride it.
Guy Smiley hosts "Beat the Time". In order to win a cookie, Cookie Monster has to bring in three things that rhyme with the word "rain" before the hand goes around the clock. They turn out to be an old man's "cane", a "chain" (to which Frazzle is attached), and finally a "train" which destroys the set.
Cartoon: The Bridgekeeper stipulates that answering three questions about the square in his hand is required to cross the bridge. Question One: What is this? Question Two: How many sides does it have? Question Three: What is a square good for? A young man who wishes to cross the bridge has square-shaped building blocks in his backpack. And a girl thinks a square makes a good picture frame. Then along hops a light blue-colored monster with a red winter cap, who proceeds to eat the bridgekeeper's square, the better to satisfy his daily diet of "three square meals."
Cartoon: Two siblings find many uses for a pot.
Little Bo Peep shows up at the lost and found, looking for her sheep. The clerk, a Fat Blue live hand Anything Muppet, asks her for a description, but she keeps forgetting important details. First he finds her a cat, then a dog, and then her sheep. He asks her how may she had, but she says she wouldn't dare try to count them. He starts counting them himself, then falls asleep.