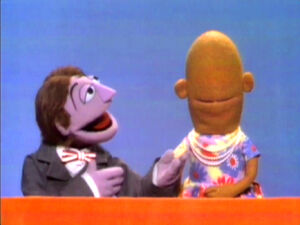 An Anything Muppet woman requests having a dress just like the one on a store window mannequin.
Young Willy Nilly is scared to get his hair cut. Super Grover tells Willy that haircuts are scary, but he must be brave. However, a barber shows them both that haircuts do not hurt, and soon they are no longer afraid of hair cuts. (EKA: Folge 0721)
Animation: Two balls follow an arrow down a hole.
When Maurice, a hapless casanova, puts an Pumpkin Anything Muppet woman's head together, he tells her that he loves her, but it turns out she doesn't love him. He then proceeds to take her head apart, bit by bit, as he sings "I Want to Hold Your Ear" (as well as eyes, nose, tooth, and hair). After she walks off in a huff, he notices to his shock that the parts he set aside have attached themselves to the tablecloth, who thinks he's kinda cute.
Ernie wakes up and tells Bert it's time to get up, but notices that Bert isn't in his bed. He slowly ponders what happened to his best friend, coming to the conclusion that maybe some Martians took him away in their spaceship. As it turns out, Bert just got up early to fix some oatmeal. Ernie is relieved... until a real spaceship lands and the Martians enter the room.