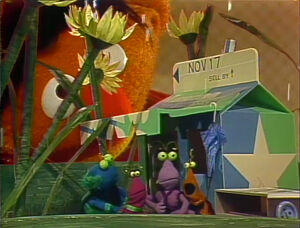 Samson makes friends with a family, whose father missed the train.
Mr. Johnson orders soup, roast beef, and peach pie, and wants them to be presented in that order (one at a time). Waiter Grover doesn't understand the order, and keeps bringing in the wrong item. Upon seeing the peach pie (twice), Mr. Johnson explains that he wants the pie after "everything else", prompting Grover to bring in everything else on the menu.
News Flash: Kermit interviews the elves, who give the shoemaker various gifts that are not shoes, but rather things that rhyme with "shoe."
Ernie watches as the Twiddlebugs head for the store in the rain, but they need something to keep themselves dry. The then take the umbrella with them.