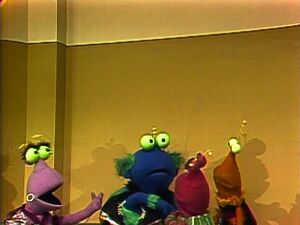 The Twiddlebugs try to find a way out of the rollerskating rink. After their attempts to smash through the wall with their bodies fails, they find the door... and use it to break down the wall.
Cartoon: The ABC Man presents the letter E.
Grover tries to ignore three monsters who look big and scary to him. When they notice him carrying a flute, they grab his attention and ask -- in what appears to be a threatening way -- if Grover wants to play. The three monsters pull out a clarinet, an oboe and a bassoon and begin to play, urging Grover to join in.