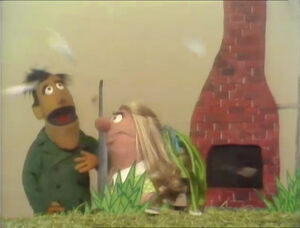 Professor Grover talks about the importance about listening... especially if the sound indicates some kind of danger.
Cartoon: Are you the monster who ate the television?
On a cold day, the Twiddlebugs try to figure out what they should close to make themselves warm. After they try closing a book, a lunchbox and their mouths, Tina sees they must close the door. Once they're warm, they decide to go outside, but can't find what they should open.
Ernie and Cookie Monster note that they're the same in a lot of ways, and then become paranoid that they can't tell each other apart. An Anything Muppet tells them how they are different, which relieves them of their stress.