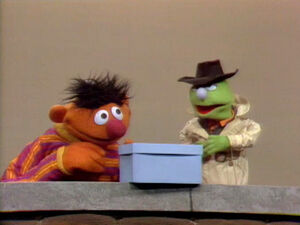 Lefty wants to sell Ernie an empty box, explaining that he can fill the box with things, such as a pet mouse (if Ernie had one) and jellybeans (if they rained from the sky). Ernie wants an empty box, but doesn't have any money. However, Bert brings a box of cookies. Ernie dumps the cookies so he can catch jellybeans from the sky.
Animation: The Plonsters want to travel, but have trouble moving a suitcase.
Grover applies to be a lifeguard, demonstrating to the employer that he has what it takes. He soon learns that there's only one thing he needs: swimming lessons.