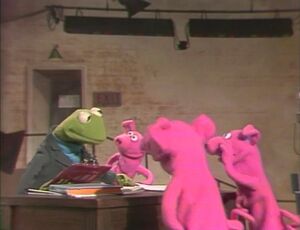 Waiter Grover prepares a table for a family, who is celebrating their grandmother's birthday, but Grover doesn't know her name, so when each family member refers to her as a different relative, Grover thinks there's more than one party going on, so he ends up bringing out six cakes.
Kermit is a casting director, holding auditions for a performance of "The Three Little Pigs". The pigs who initially try out get the part of the three little pigs, but three different wolves of different sizes try out for the part of the Big Bad Wolf.
Telly tries to talk about the letter R, but the letter in question would rather do the talking for himself.
It's a chilly winter day, and Forgetful Jones is freezing. Clementine helps him realize that an important piece of clothing is missing from his attire. Once Forgetful realizes that he's missing his coat, he goes inside to get it...only to forget how to open the door, and crashes through it!