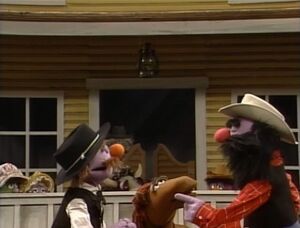 Samson finds uses for a chest of drawers.
Ernie and Bert have a balloon on a post of both their beds. Ernie thinks they'll last forever, but Bert explains that balloons don't last forever. Ernie doesn't want to see them deflate, so he insists that they let the balloons go; that way the last time they see them, they'll be "fat and floaty". They let them fly out the window, and as soon as they get back into bed, Ernie (breaking the promise he made Bert that he'd go to sleep if they let the balloons go) asks Bert if the balloons are too cold up in the sky, and whether they'll end up in China. Frustrated, Bert throws a fit. Ernie asks him to keep it down.
In a parody of High Noon, Clementine doesn't want Forgetful Jones to meet Sinister Sam, the meanest man in the west, at the traintracks at noon, especially since it's their wedding day. But both Forgetful Jones and Buster (in song, referencing "Do Not Forsake Me" from High Noon) convince her that "a man's got to do what a man's got to do". Sinister Sam shows up and, in a threatening manner, informs Forgetful Jones that he's got something to say to him ... "I think it was mighty nice of you to remember to meet my train!" They all hit the saloon for lemonade, leaving Clementine dejected.
The Two-Headed Monster looks at themselves in mirrors, and the right half notices that both of them are the same; they have the same nose, mouth, and hands. The other half points out that they're different: their horns point different ways, their hair is different, and their laughter is different.