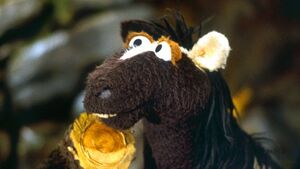 Picture
Segment
Description

Scene
Pferd has found two tree trunks that form a seesaw, he is excited because a seesaw is a fun thing to play with. He decides to try it out and sits on it, but after going down the seesaw won't go up. Wolle comes by and Pferd tells him about the broken seesaw. Wolle are sure they can repair it.

Scene
Wolle takes a closer look, in one end sits Pferd and in the other no-one, Wolle concludes that he has detected the problem to use a seesaw there must be two persons. Wolle tells Pferd that he are in luck, with Wolle they are two and that he would love to join Pferd on the seesaw.

Scene
They get on the seesaw, and Wolle's end quickly raises up. Pferd can't understand why Wolle can't get down, Wolle tells him that he is too heavy. But Pferd refuses and says that it's Wolle that is too light.

Samson comes out of his cave and asks what they are doing, Wolle tells him about the seesaw and their weight problem. Samson solves it by pushing Wolles side down. Samson then gets another idea, he will sit on Wolle's side making that side heavier. Wolle and Pferd thinks it's a good idea.

Scene
Samson asks Pferd if he is ready and then sits down on the seesaw with Wolle and then catapulting Pferd away.

Scene
Samson and Wolle find Pferd in a nearby apple tree. Pferd are happy to be so close to those delicious apples. He concludes that a seesaw is a wonderful apple flying machine.

Scene
They try to figure out what went wrong. Then they realize that Samson should sit on one side while Pferd and Wolle sit together on the other and the seesaw works.
Known segments