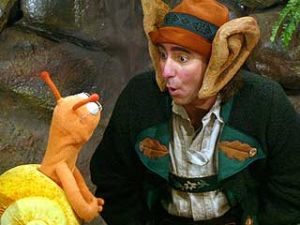 Picture
Segment
Description

Scene
Finchen is looking for Samson at his cave. Finchen yells "Hallo" into the cave, but instead of a reply from Samson, a different voice yells "Hallo" back. Nils comes by and tells Finchen that Samson is not home. Finchen can't understand it since he got an answer when he yelled. Nils explains to Finchen that it had to be an echo that he heard and wonders what an echo is.

Muppets
Ernie repeats everything Bert says and does. Bert gets annoyed and suggests to play the game the other way around, to which Ernie starts talking very fast while patting his head and rubbing his tummy.

Cartoon
Two boys roll down a hill.

Scene
Finchen are having fun with yelling things into the cave to hear the echo. He discovers that if he yell questions he don't get a answer back. Without Finchen notice it a guy are sneaking up on him.

Film
Kids are testing various items to see what makes the most noise.

Muppets
Wolle hosts the talk show "Wolle am Mittag" and the guest are Pferd who claims to be able to make himself invisible. It turns out that Pferd just covered his eyes, while claiming he is invisible. Wolle attempts to convince Pferd that he is still visible, Wolle then demonstrate invisibility by hiding under the table. Pferd are impressed by Wolle's skills he can hear him but not see him.

Animation
A clay man hikes up a letter M.

Scene
Finchen are wondering what the echo in Samson's cave looks like. Finchen is surprised to to that a person is standing ext to him, it turns out to be the echo Hugo Hall. He greets Finchen in English, French, Turkish and German, and that's just a few of the many languages that he speaks, since he travel around a lot. But he likes it in the mountains, he then sings a song about himself.

Cartoon
Demonstration of near and far.

Muppets
Grover climbs a mountain and counts from 1 to 10 with his own echo.
(EKA: Folge 1521)

Film
A family takes a trip in the mountains.

Scene
Hugo tells Finchen that he lost his way, while attempting to find his home in the mountains. Finchen promise him to help.

Film
Kids experiment with various sounds.

Muppets
A Large Lavender Live Hand Anything Muppet cowboy shouts across a canyon to hear the echo. "Yippee ki-yi-yo!" is repeated back to him perfectly. When he shouts "One!", the echo repeats back, "¡Uno!" The cowboy is startled. "Two!" he shouts, and the echo repeats, "¡Dos!" "You s'pose that's Mexico over there?" he asks. He continues to count to ten, with the echo repeating the numbers back in Spanish. Frustrated, he shouts, "How are you?" "¡Muy bien, gracias!" is the reply. "Oh, this is ridiculous," the cowboy says, and throws his cowboy hat into the canyon. A sombrero is thrown back in return.

Animation
Thelma Thumb looks for the binocular that Cyrus had lost.

Scene
Finchen goes and borrow a binocular fron Nils, so he can help Hugo. Nils thinks it's funny that Finchen claims to help a echo find it's home, but decides to play along. Finchen and Hugo climbs the top of Samson's cave, were they find Hugo's homo using the binocular. Hugo then leaves to go home, after Hugo leaves Nils comes up on the top and Finchen happily tells him they found Hugo's home. Nils waves and yells good luck to Hugo, and ponders a bit about the responds he get.