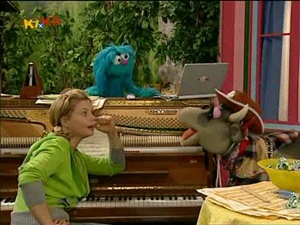 Picture
Segment
Description

Scene
Annette is trying to come up with lyrics for her new song, while Feli Filu surfs the Internet. Annette asks Feli if she has any ideas for lyrics to go with the song, but all she can come up with are some "la la la's". Feli then notices a cow with a cowboy hat on the street. The cow is trying to sing a song about the Sesamstrasse sign as she moves towards Annette and Feli. The cow introduces herself as the country singer Delia Denver, a contestant on Deutschland sucht die Superkuh and that she has an idea for some lyrics to a song about milk, but no ideas about the music to it. Feli suggests that they work together to set Delia's lyrics to Annette's music, and they start to work on the song.

Film
Kids talks about how you can rime.

Scene
Annette suggest that since the main focus of the song id milk, then maybe they should find something that rhymes with "milk", but since they can't come up with any good words, Annette suggests that they try some milk products instead. But they can't think of any products that are made of milk. They look around Sesamstrasse to get some inspiration, but nothing they can see reminds them of milk. Then Feli notices Nils in front of the shop, and tries to come up with a rhyme for "milk" and "Nils". Annette suggests that they can find some inspiration in the shop.

Muppets
Prairie Dawn hosts "Amazing Animal Tricks" with guest Old MacDonald, who has brought his cow. The cow plans on saying the alphabet, but all she does is moo, while MacDonald translates (much to Prairie's disappointment).

Scene
They explain the situation to Nils. But Nils doesn't really understand it, so Annette tells him that they would like to look at some milk products so that they can get inspired. Nils fetches all the various milk products he has in the shop and places them all on the counter. Delia is surprised that so many things are made out of milk and Feli thinks that they could easily make a song about milk now, and they start to sing.
When they finish the song, Nils says that he has one more thing that is made of milk, and he fetches them some ice cream.

Muppets
Ernie sings "The Honker-Duckie-Dinger Jamboree."
(EKA: Folge 1651)

Film
In Kochen mit Tim, Tim takes the children out to a farm to get some fresh milk. Back in the kitchen they use the milk to make milkshakes.

Cartoon
A dice rolls a cow.

Cartoon
Connie the Cow and her friend Patches take cover from the rain in a cave. They decide to try and build a shelter in the woods so they can still play when it's raining, and they try to get help from the other animals in the forest.

Muppets
Ernie asks Bert if he would like a chocolate ice cream, describing it in detail, and Bert really wants an ice cream like that. Ernie then tells him that there's an ice cream vendor behind them and to bring one for him as well.
Community content is available under
CC-BY-SA
unless otherwise noted.