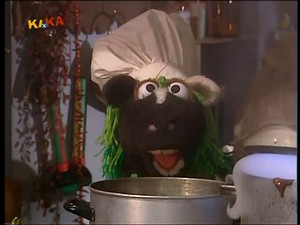 Picture
Segment
Description

Scene
Rumpel are looking through his Grouch cookbook that contains the best recipes from his great-great-grandfather for a recipe on a green blubber pudding. But the recipe are missing, so he decide to try and mix one up himself.

Pferd comes by as Rumpel are busy in his kitchen, he decides that it's a good time for a snack and goes over to Rumpel. Pferd offer to help Rumpel to make whatever it is that he are gonna make, but Rumpel don't want any help at all. So Pferd decides that he will just stay and watch and promise that Rumpel won't even notice him.

Film
Kids talks about their favorite food.

Scene
As Rumepl fetches an ingredient for the pudding he bumps into Pferd who are standing behind him. Pferd explains that he was behind Rumpel so that Rumpel could not see him and therefor he would not disturb Rumpel. Finally Rumpel tells Pferd to stay put and don't move.

Muppets
Ernie joins Cookie Monster in a game of "Three of These Things" with a hamburger, pizza, cookie, and a fajita. Ernie notes that three of them are round, and that one of them is a dessert. Cookie declares his second answer wrong, and Ernie finds out why: all of the foods were made with cookies in them.
(EKA: Folge 2298)

Scene
Rumpel are ready to try to make the pudding, Pferd gets excited and want to help and drops an additional thing into the put without Rumpel noticing it. The pudding turns red and Rumpel can't understand why. Pferd finds a piece of paper on the ground and asks Rumpel if he mind that Pferd does some cooking as well. Rumpel are so busy with his pudding that he gives Pferd permission to cook on his own. Pferd begins to cook.

Film
Kochen mit Tim: Tim and the kids make fish fillet with cornflakes.

Scene
Pferd are sining a little song about cooking. Rumpel tells him to stop, but Pferd continues his singing.

Cartoon
Paint drops cover the screen

Muppets
The blue monsters won't play with Elmo because he is red. Then one of the monsters decide to play with him and then two more decides to join them.

Scene
Rumpels pudding turns blue, Pferd are impressed, but Rumpel are not and once again starts to search his recipes. Meanwhile Pferd tastes his creation from the pot and thinks it taste great and then turns his attention to the recipe to see if it taste good as well and it does. Pferd's mane turns green and Rumpel then notice that Pferd have been cooking green pudding. And then realize that Pferd just ate the recipe.

Cartoon

Cartoon
Connie the Cow
Connie's grandmother gives Connie and her friends a riddle, they will have to find an animal that can change it color.