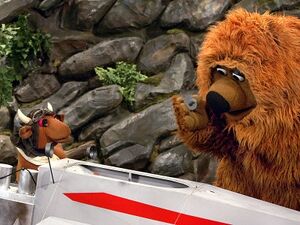 Picture
Segment
Description

Scene
Mehmet and Samson are building paper airplanes, and are about to test them when they hear a plane above the street, and it sounds like it has engine problems. Shortly after it makes an emergency landing near Samson's cave, they hurry over to see if there's something they can help with.
The pilot turns out to be a cow, who introduces herself as Amelia Kuhhart.

Muppets
Kermit tries to interview the Miami Mice about adventure, but finds it difficult to continue the interview when he's interrupted by a jet plane, an animal stampede, and a giant monster all making their way through the office.




Scene
Samson asks Amelia what she is doing around Sesamstrasse, and she tells him that her engine has broken down and she has just started an attempt to set yet another world record, flying around the world in 80 hours backwards, since everyone is able to fly forwards so there is nothing special about that. Mehmet doesn't like what he sees in the engine, but Amelia ensures him that that's what a backwards engine should look like; the problem is that it suddenly stopped. Amelia checks the engine by giving it a few bashes with her hammer. Samson notices that the plane is out of gas. Amelia is surprised this has never happened to her before. But unfortunately, there's not a gas station on Sesamstrasse. Mehmet gets an idea: he will phone Nils and ask him if they can transfer the gas from his little car. But Amelia is not sure how they will be able to get the gas from the car to the plane. Samson tells her that they can use Ella's garden hose. Amelia is impressed by the wits of the big bear.

Muppets
Super Grover teaches a class for potential superheroes. Among his students are Telly, Elmo, Zoe, Rosita, Herry, and Merry.

Scene
Nils has given his permission for transferring the gas from his car to Amelia's plane. They connect the garden hose to the car and plane, but nothing happens. Mehmet thinks that it's because the car has to be on a higher level than the plane. Samson lifts the car and the gas is transferred to the plane. Amelia is impressed and happy that she crash-landed on Sesamstrasse. She kisses them goodbye and takes off, backwards.

Muppets
Ernie doesn't think pigeons are able to laugh at Bert's jokes, but he's wrong... (EKA: Folge 2297)

Muppets
Lola the cow is trying to find her home. She first tries to climb a tree to get into a nest, but Little Bird tells her that it's not her home. She then tries to crawl down a hole in the ground, but that turns out to belong to an earthworm. She finally finds a barn and is invited in by another cow.

Film
A high speed film about a container ship.

Cartoon
Connie's friend Patch doesn't want to be a dog; he wants to be a bird. They get hold of a magical collar and his wish comes true.

Muppets
Both Ernie and Bert are thirsty. Bert is excited as he discovers an empty bottle on the ground. Ernie wonders why Bert is so excited, as the bottle is empty. It turns out that Bert is excited because the bottle cap is one that he is missing from his collection, and starts to search the area for more bottles.
Community content is available under
CC-BY-SA
unless otherwise noted.