Sesamstrasse
Plot
Where do the holes in a cheese come from ?
Air date
November 18, 2007
Season
35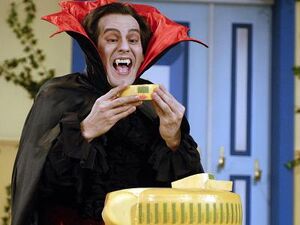 Pferd and Wolle finds a piece of cheese that is full of holes, on Mehmet's breakfast table. They wonder what might have happened to the cheese since it's full of holes, and it seems to be a new case for Detective Wolle. There's a few possible solutions; did a worm eat the cheese?, did Mehmet use his drill on it? or was the cheese bitten by a vampire?
Segments
In the Ernie & Bert Show, Ernie tries to prove to Bert that you are able to improve your sight by looking through a magnifying glass.
In Monsterpiece Theater, Grover and Herry Monster have a race. (EKA: Folge 1487)
The Count von Count tells a new version of "This Little Piggy Went to the Market" for ten toes, and invites the viewers to count along. The little piggy who stayed home, did so to read a book: War and Pigs, and the tenth pig gets shot out of a cannon.
Ernie claims that he can understand the elephant's language.