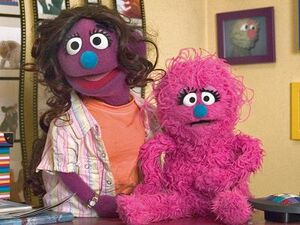 Picture
Segment
Description

Cold Opening
Bert asks Ernie why he has a silly hat on. Ernie tells Bert that he has it on to remember something, but what was it? Ernie then remembers that the hat he wears are to remind him that he has a present for Bert. Ernie pulls out a hat and puts it on Bert's head--the hat was to remind him that he had another hat for Bert.

Intro

Scene
Rumpel has received the papers for his registration for the Grouch of the year competition and he quickly begins to fill it out. But then he notices that he has to make a video about a typical day. Rumpel is upset, as he doesn't know how to make such a video tape. He then remembers that Moni has a video camera and hurries over to her.

Scene
Rumpel tells Moni that she has to make him a video for his application to become Grouch of the year. She would like to help but doesn't have anyone to take care of Lena, so she will have to bring her along. Rumpel reluctantly accepts and is sure that they can get it done very fast. But Moni tells him that it will take her awhile to get everything ready.

Scene
Moni has found her camera and set it up, and Rumpel begins his presentation. Shortly after he starts, Lena pops up next to Rumpel and soils her diaper. Rumpel thinks there is a very nice odor around her. Moni comes in and apologizes to Rumpel and tells him that they can just start over.




Scene
Moni places Lena next to her and restarts the camera; meanwhile, Lena slips away again.
Rumpel begins his presentation again and Lena pops up once more and starts to use the various pots and pans as a drumset. Moni hurries in to stop her daughter and carries her away once more.
Rumpel thinks it was great, but Moni restarts the camera. Rumpel once again starts his presentation and this time Lena pulls down a rope that holds Rumpel's extra pots and pans. Rumpel thinks it's great; Lena is good at being a Grouch and he is sure that he will win with Lena by his side. Lena begins to talk really fast, and Rumpel is unsure what she is saying. Moni thinks that she is saying that she wants to play with the mud that Rumpel has, and she suggests that Rumpel play with Lena. Rumpel likes the idea and the two of them start to throw mud at each other. Moni is excited and kind of proud of her little Grouch.

Film
Valentin talks about his dog Wanda, and shows how he takes care of her and trains her.

Muppets
Ernie tries to answer a tricky question from the animal kingdom that involves a rabbit.

Film
A high-speed movie of a pool

Muppets
Telly rings his triangle outside Oscar's trash can, bringing him outside. He asks Oscar if he'd like to join his band, but he declines, since he's already in his own band: Four Grouches Named Moe and Oscar. When the four Moes arrive, they sing "Big Bad Mess" for Telly. They invite him to be in the band, but Telly also declines and sets off as the band continues rehearsal.

Cartoon
Drawing a parrot

Muppets
Baby Fats Domino sings "Baby Blankie Blues."

Cartoon
Connie the Cow is sad because two of her best friends can't get along.