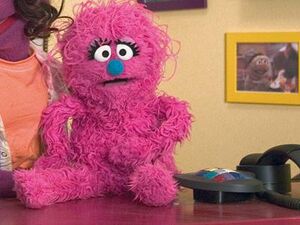 Picture
Segment
Description

Cold Opening
Bert likes the forest it's so quite that you can hear the wind. Then Ernie comes bursting in with a radio saying that the forest is great because you can play loud music. Bert insists that Ernie turns down the volume, however Ernie can't hear due to the loud music. Just as Bert is shouting it, Ernie turns the music down, and asks him why he is shouting.
(First: Folge 2340)

Intro

Scene
Nils are babysitting Lena, Rumpel decides to build a babysitter machine to take care of Lena.

Scene
Rumpel has built a grouchy babysitter machine. He claims the machine has everything a baby needs. Rumpel claims that every baby is born a grouch, but as they get older they start to act all nice for some reason. Lena is eager to try out the machine, Nils is having a lot of difficulties holding her back. Nils decides to try it out first.




Scene
The first feature of the machine is a wash, so Nils spins around in the washing machine. When finished, Nils has gotten baby cloths and a diaper, he then slides down to a bathtub were he is fed with some delicious green gunk.

Scene
Then some cleaning of the face. The next feature is a rocking motion to help the baby go to sleep, and Nils falls asleep, afterwards he is rolled out on a mattress, Rumpel puts a pacifier in Nils' mouth.

Scene
Rumpel soon discovers that the demonstration has a flaw: as Nils sleeps, he is alone with a very active baby, and he is unable to wake up Nils.

Film
Kids talks about babysitting.

Muppets
Bert's pigeon Bernice can't play with him, so Ernie pretends that he is Bernice. Then Ernie asks Bert to pretend that he is Ernie's Rubber Duckie.

Film
A Worm eating a leaf.

Muppets
Elmo is sleeping over at Telly's. However Elmo can't sleep due to Telly's snoring. Elmo turn on the radio, so he can't hear Telly snoring, however the music is so loud that they can't sleep. Telly then tries to put his hand over his mouth and nose, however that don't work since he can't breath. Elmo then asks for some earmuffs, that worked. However now Telly can't sleep, because Elmo snores, luckily Telly has another pair of earmuffs.
(EKA: Folge 2318)

Cartoon
Drawing a Butterfly

Muppets
Anything Monsters sings "The Tortellini Song."

Cartoon
Connie the Cow discovers butterflies on a meadow with beautiful flowers, it turns out that the butterflies have denied the other animals access to the flowers.