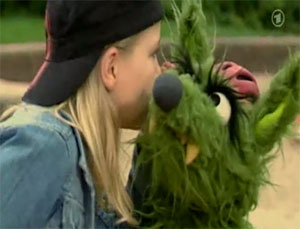 Pferd hears the story of the "Sterntaler" and wonders if he use apples in the same way as the story.
It's the Wörterfee's birthday, and the Wolf vom Wörtersee has completely forgotten about it and he is going to another friends birthday today. Wolf decides that he have to find gift for her, and he quickly leaves to go to his other appointment. He asks his two friends if they have an idea for what he could give the Wörterfee. Together they compose a birthday rap for her. Back at the lake Wolf sings the rap to the Wörterfee, she loves the gift and Wolf has even brought a piece of birthday cake with him for her.
Big Bird is upset because today is Monster Day and the monsters have not given any peace. The monsters let him participate in their fun by making him an honorary monster.