Sesamstrasse
Plot
The most beautiful street in the city
Air date
June 21, 2009
Season
36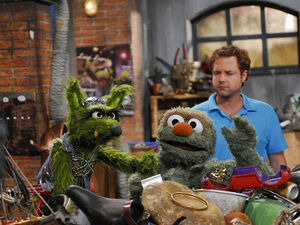 Picture
Segment
Description

Cold Opening
Samson are cleaning his cave, and Finchen are sorting the leafs on his leaf pile. Finchen welcomes the viewer and tells that they are cleaning up the street for the competition for the most beautiful street in the city.

Intro

Scene
Nils are polishing the apples, when Samson and Finchen comes around and start to talk about how exciting the competition is. The wining street will get everything they would need for a party for the entire street and a performance by Luigi Lupo, who will also be in the committee. Finchen are sure that they will win, he has made sure that the most beautiful leafs are on the top of his leaf pile. They then hear some noise from Rumpel's corner.

Scene
It turns out that Rumpel are adding new junk to his junk heap. They try to convince Rumpel that he needs to clean it up as they are trying to win a competition for the most beautiful street. Rumpel refuses to remove the junk heap even for just one day. Samson and Finchen realizes that the street party and the concert from Luigi Lupo are suddenly out of reach. But as soon as Rumpel hears the name Luigi Lupo, he suddenly gets interested, it turns out that Rumpel are a huge fan of Luigi he even has a poster of him. Rumpel decides that under the circumstance, he are willing to help to make the street beautiful. He starts to find even more "beautiful" junk, as he concludes that the junk heap have to be bigger if they should have a chance to win. And then the city committee arrives.

Scene
Finchen welcomes the city officials and Luigi Lupo to Sesamstrasse. The city officials like what they have seen so far, everything looks very beautiful. Then they hear the noise from Rumpel's corner. Luigi then notice the huge junk pile and hurries over to it.

Scene
Luigi are impressed with all of the junk, he have not seen so much fantastic junk before. Luigi are happy to see something else than the trivial things he has seen so far, he thinks that it is a great feat of creative chaos. Rumpel are excited that his pile of junk got so much praise from no other than Luigi Lupo. The city officials reluctantly declares Sesamstrasse as the winning street due to the creative chaos.

Scene
Ernie are playing air guitar, while Bert can't stand the noise the music that Ernie listens to. He asks Ernie if he could turn off the radio, and Ernie gives him permission to do it, however Bert discovers that the music do not stop playing after he turned off the radio. Ernie then asks Bert how he likes Luigi Lupos live concert on Sesamstrasse.

Film
Pia and Hannah shows how their street prepares for a party.

Cartoon
A dice rolls a guitar.
(EKA: Folge 2355)

Muppets
Ernie invites Bert and the viewer to rub their tummy and pat their head, and sings "Rub Your Tummy".
(EKA: Folge 2456)

Film
A high speed movie of a car being disassembled.

Muppets
Reporter Wolle visits garage, to find out how a auto mechanic works.
(EKA: Folge 2353)

Muppets
Cookie Monster and Grover do "A Very Simple Dance," but all of Cookie Monster's dance moves involve eating cookies.

Muppets
The hare challenges the tortoise to a rematch: this time, the tortoise comes equipped with a jet-pack.