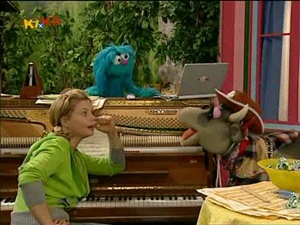 Picture
Segment
Description

Cold Opening
Ernie are making noises at the monkeys in the zoo, Bert arrives and asks what he are doing. Ernie tells Bert that he are talking to them, Bert are impressed that Ernie knows how to speak with them and asks what they are saying. Ernie tells Bert that they says that Bert should give his ice to Ernie, and Bert hands the ice over and then asks what they are saying now. Ernie says that they just said "Thank you Bert" and then starts to eat the ice.

Intro

Scene
Annette are trying to come up with a text for her new song, while Feli Filu surfs the Internet. Annette asks Feli if she has any ideas for a text to go with the song, but all she can come up with are some "la la la's". Feli then notice a cow with a cowboy hat on the street. The cow are trying to sing a song about the Sesamstrasse sign, as she moves towards Annette and Feli. The cow introduce herself as the country singer Delia Denver, a contestant on Deutschland sucht die Superkuh and that she an idea for some lyrics to a song about milk, but no idea for the music to it. Feli suggests that they work together to put Delia's lyrics on Annette's music, and they start to work on the song.

Scene
Annette suggest that since the main focus of the song are milk, then maybe they should find something that rimes on milk, as they can't come up with any susceptible words Annette suggest that they try some milk products instead. But they can't think of any products that are made of milk. They look around Sesamstrasse to get some inspiration, but nothing they can see reminds them of milk. Then Feli notice Nils in front of the shop, and tries to come up with a rime for milk and Nils. Annette suggest that they can find some inspiration in the shop.

Scene
They explains the situation to Nils. But Nils don't really understand it, so Annette tells him that they would like to look at some milk products so that they can get inspired. Nils fetches all the various milk products he has in the shop and places them all on the counter. Delia are surprised that some many things are made out of milk and Feli thinks that they could easily make a song about milk now, and they start to sing.


When they finish the song, Nils says that he has one more thing that are made by milk and he fetches them some ice cream.

Film
Kids talks about how you can rime.
(EKA: Folge 2348)

Cartoon
Drawing a snake

Muppets
Ernie and Bert sing "What's the Name of That Song?"

Cartoon
A story with only "W" words.
(First: Folge 2473)

Muppets
The Wörterfee has a problem is are supposed to present the worlds longest word at a conference, but she does not know the worlds longest word. The Wolf suggest a few words but they are not very long, he then promise that he will go and search for the word. He asks his two friends for help, to find a word longer than skateboard, they suggest the word skateboard-wheels and as they continue to talk the word just keeps growing to skateboard-wheel-oil-rag-washing machine-washing powder-can-shelf. Wolf hurries back to say the word to the Wörterfee, however on his way back he forgets the word. Just as the Wörterfee has given up hope for the longest word in the world, Wolfs skateboard wheels makes a noise and she tells him that she thinks she has can of oil on her a skateboard-wheel-oil-rag-washing machine-washing powder-can-shelf. Then she realizes that she just found the word, and she thanks Wolf for bringing it to her.
(First: Folge 2443)

Animation
Bert and Ernie's Great Adventures: Bert and Ernie are night museum guards, and a lady in a portrait has magically asked them for help. They enter the world of the painting where they discover that she only needs help getting her son Angelo to eat his dinner.